THE#1MOST PRESCRIBED,
BRANDED BOWEL PREP KIT1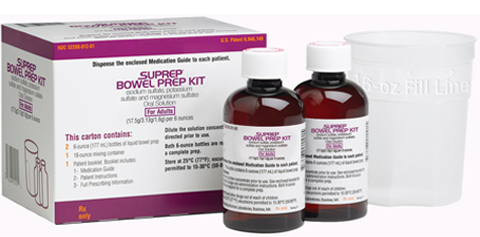 MORE THAN
15 MILLION
SUPREP® BOWEL PREP KITS
DISPENSED SINCE 20101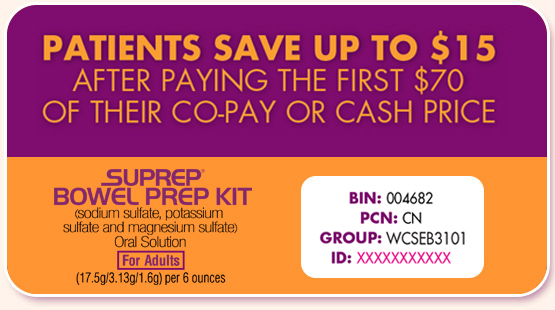 Up to program maximum, which is subject to change.
IMPORTANT SAFETY INFORMATION
SUPREP® Bowel Prep Kit (sodium sulfate, potassium sulfate and magnesium sulfate) Oral Solution is an osmotic laxative indicated for cleansing of the colon as a preparation for colonoscopy in adults. Most common adverse reactions (>2%) are overall discomfort, abdominal distention, abdominal pain, nausea, vomiting and headache.
Use is contraindicated in the following conditions: gastrointestinal (GI) obstruction, bowel perforation, toxic colitis and toxic megacolon, gastric retention, ileus, known allergies to components of the kit. Use caution when prescribing for patients with a history of seizures, arrhythmias, impaired gag reflex, regurgitation or aspiration, severe active ulcerative colitis, impaired renal function or patients taking medications that may affect renal function or electrolytes. Use can cause temporary elevations in uric acid. Uric acid fluctuations in patients with gout may precipitate an acute flare. Administration of osmotic laxative products may produce mucosal aphthous ulcerations, and there have been reports of more serious cases of ischemic colitis requiring hospitalization. Patients with impaired water handling who experience severe vomiting should be closely monitored including measurement of electrolytes. Advise all patients to hydrate adequately before, during, and after use. Each bottle must be diluted with water to a final volume of 16 ounces and ingestion of additional water as recommended is important to patient tolerance.
View the Full Prescribing Information and Medication Guide.
References: 1. IQVIA. National Prescription Audit Report. June 2019. 2. SUPREP Bowel Prep Kit [package insert]. Braintree, MA: Braintree Laboratories, Inc; 2017. 3. BowelPrepGuide.com. How to Tell If Your Bowel is Clean Prior to Colonoscopy. https://bowelprepguide.com/how-to-tell-if-your-bowel-is-clean-prior-to-colonoscopy/. Publication date unavailable. Accessed November 17, 2018. 4. American Society of Anesthesiologists Committee on Standards and Practice Parameters. Practice guidelines for preoperative fasting and the use of pharmacologic agents to reduce the risk of pulmonary aspiration: application to healthy patients undergoing elective procedures. Anesthesiology. 2011;114(3):495-511.